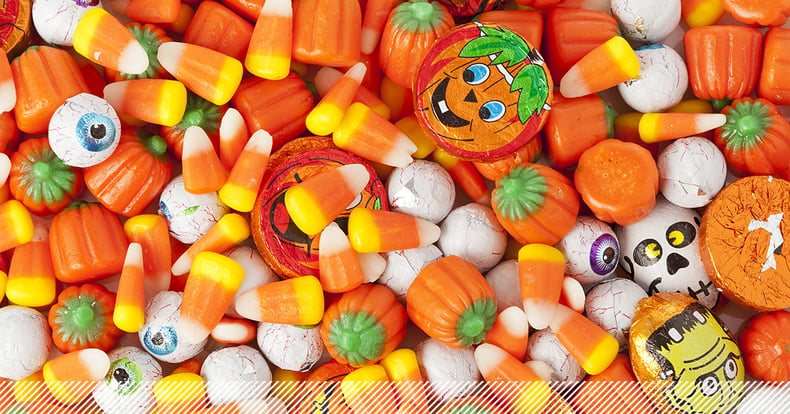 Halloween candy has a way of sticking around long-past its one night of fame, wasting away in the pantry until you remember to toss it out. Here at Leanpath, we're typically focused on preventing large amounts of food waste in big foodservice kitchens. But even we can't stomach wasting candy. So we've pulled together some inspiration to encourage you to use up those remaining treats that you just can't force yourself to eat.
Candy bark is a leftover Halloween candy dream. Just melt chocolate and pour onto a parchment paper lined sheet tray, load it up with candy leftovers and let it cool completely so you can break it into pieces. As a reminder, chocolate can stay good for six to eight months past its expiration date if its kept in a freezer. You can have leftover Halloween candy all year long. Plan ahead to use candies in the future, when gingerbread houses need colorful décor or when you want to upgrade your standard brownies, cookies, and bars.
When yearly celebrations roll around, instead of relying on your go-to cupcake recipe or figuring out how to make the best chocolate chip cookie, take any candy and make it into a dip. A decadent recipe combines 8 ounces of cream cheese with ½ cup of sugar, powdered sugar or a mix of white and brown sugar. Add optional flavorings like peanut butter, cocoa powder, or vanilla extract to taste. Toss in a handful of chopped candy bars and serve with sliced apples, pretzels or cookies for a truly mouthwatering way to celebrate.
If after the Halloween sugar rush, repurposing candy in other treats is hard to swallow, grab a paint brush and paper to incorporate candy into a creative learning activity.
Grab those Skittles and get crafty. Sort your colors into small jars. Cover the candy in corn syrup and watch the colors make a glossy paint. The longer it sits, the more intense the color and fruity smell. Nerds and a little water leave a colorful decorative design behind. Or make use of Starburst to make finger paint! For each color, use about 20 pieces of candy, 2 cups of water, and 1/2 cup of cornstarch.
Lastly, dentists and other businesses have joined a national movement to collect excess candy in support of US troops and veterans. Buy-back programs allow businesses a marketing opportunity, kids a chance to make a positive impact with their choices, and gives our troops a way to build relationships while overseas.
Go here for even more inspiration.
Sign up for our monthly newsletter in the footer below for the latest in
food waste prevention initiatives, best practices, webinars and more.