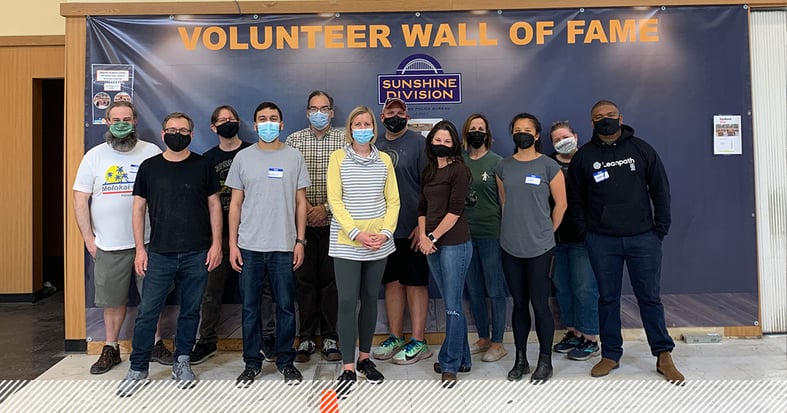 March is B Corp month, a time specifically devoted to raising awareness of the importance of the unique nature of B Corporations, and to celebrate the work that B Corporations around the world do to positively impact people and planet.
Leanpath team members are highly mission-driven in committing to ensure a sustainable future for all by making food waste prevention and measurement everyday practice in the world's kitchens, and therefore we are naturally energized by our B Corp status. (That's us in the picture volunteering at an Oregon food bank!)
For background, B Corporations are guided by B Lab, which was created in 2006 in recognition of the fact that a new stakeholder-focused economic model was needed to benefit people and planet, while reducing the negative impacts associated with shareholder capitalism. B Lab's theory of change posits that business organizations should be a force for good, and lead the transformation to a global economy that is "more inclusive, equitable, and regenerative."
We're excited that our work to prevent food waste around the world promotes inclusion and equity by freeing resources to address the root causes of social problems. We're thrilled that with every pound of food waste that we help prevent in foodservice operations, we promote a regenerative food system by reducing emissions, water usage, deforestation, and many other environmental externalities associated with today's food system.
As a B Corporation, we are guided by the B Corp Declaration of Interdependence, which notes that we must be the change we seek, that business should be conducted as if people and place mattered, and that through our products and practices we should strive to do no harm and benefit all. The Declaration also includes the concept that we are all dependent upon one another, and we are responsible for one another and for future generations.
These themes align with several of our core operating philosophies, such as food connects everything; big challenges require strong collaboration; and environmental stewardship is our responsibility.
As a B Corporation ourselves, we wanted to recognize the importance of B Corp Month, through a day of service organized through our headquarters in Oregon. Several of our Oregon-based team members joined together in volunteering at Sunshine Division in Portland this week. Sunshine Division focuses on providing free accessible food and clothing assistance to local individuals and families in need. In two hours, 12 Leanpathians helped sort 14 pallets worth of food. This provides an inventory of food that Sunshine Division then uses to curate food boxes that will be distributed to outlets for community members to receive.
In keeping with the spirit of B Corp month, many of our team members from around the globe showed their commitment to positive interdependence by volunteering in several ways, including:
Mentoring budding food waste reduction activists
Advising University students on food system-focused research
Working with an organization that plants and maintains trees, builds community, and advocates for environmental justice
Mentoring students at a coding lab who are transitioning into a career in technology, predominantly working with individuals who are women, queer, or gender non-conforming
These efforts, along with helping provide direct food assistance for members of our community, were rewarding experiences for us, and in keeping with our B Corp roots, our team members will continue to volunteer and devote time to help individuals and organizations in need.