Leanpath is celebrating Earth Day by living out one of our core philosophies: food connects everything. Our Portland, Oregon, team joined forces with the hard working crew at Heart 2 Heart Farms and Good Neighbor Family Pantry for a morning of service to the land and community.
The issues facing our global food system are many and interrelated. Earth Day is a rallying point every year, bringing millions together around the world with the goal of solving climate change, to end plastic pollution, to protect endangered species, and to broaden, educate, and activate the environmental movement across the globe.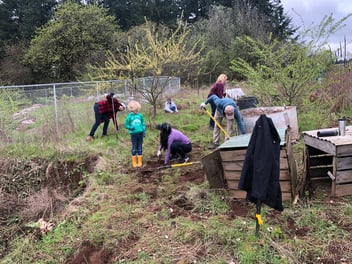 We spent our morning removing invasive and toxic plant species from two acres of gorgeous farmland nestled into the vineyard covered hills of the Willamette Valley. The land we cleared is going to be used for rotational grazing, a regenerative pasture management method that improves soil quality rather than sapping it of nutrients.
Heart 2 Heart Farms is a zero-waste farming operation located in Sherwood, Oregon. The farm and food pantry intercept approximately 75K pounds of food from local distributors every week. They welcome families facing food scarcity, access, and quality issues to glean what they need. The food that is not fit for human consumption gets fed to farm animals - a pastured pig operation, 50 percent of which is made available to the community for work trade, ensuring access to high quality, chemical free meats. The food that's left is composted, completing its journey through the food waste hierarchy.
We got a first hand look at this powerful farming and waste stream management model, and experienced the hard work it takes to make the engine turn. Food is a common thread that connects us all, whether you work at the top of the food waste hierarchy in source reduction, like we do at Leanpath, further down the supply chain like the team at Heart 2 Heart Farms, or in kitchens and foodservice operations around the world. Food connects everything, on Earth Day and every day.
This Earth Day, we've compiled expert resources to help you get started on your food waste prevention journey; these are quick wins you can implement within your team to start creating a kitchen culture of food waste prevention.
Download these guides and get started
on your food waste prevention journey today!