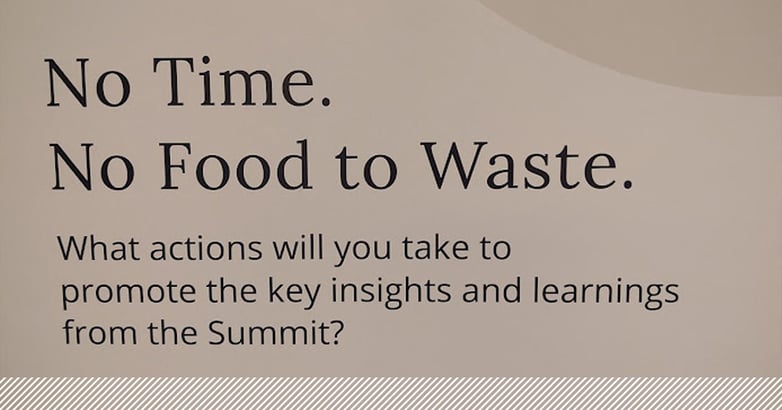 After a lengthy Covid-related break, Leanpath was pleased to join numerous colleagues, partners and food system changemakers for the ReFED 2022 Food Waste Solutions Summit in Minneapolis last week.
We would like to share our congratulations to the ReFED team for an expansive, exceptionally well-curated session that covered multiple sectors and themes (consumer change, climate, capital, DEIJ, health, innovation, etc.) while underscoring the need for urgent action to halve food waste in accordance with the 2030 United Nations' goal.
The action focus at the summit was clear. Upon entering the venue, participants were greeted with several inspirational messages on large banners drawing from the ReFED Insights Engine and the Roadmap to 2030. One message reminded everyone that "Food waste is a solvable problem. Here's how to do it." Another noted, "No Time. No Food to Waste. What actions will you take to promote the key insights and learnings from the Summit?"
In keeping with that inspirational framing, below are five (non-exhaustive) key takeaways from the summit.
Energy. It was impossible not to feel the positive energy in the room. There is a lot going on in the food waste space, sparked in large part by the work of many summit participants over the last decade. And it's clear that more individuals with new skills are joining this movement. We need to harness that energy and amplify it via collaboration and partnerships, for while some progress on food waste reduction has been made in the United States – Dana Gunders referred to this in a slide with a view of 2 percent down, 48 percent to go in terms of the 50 percent goal – there remains an incredible amount to do. We must go farther, deeper, and faster. And Gunders provided the inspirational framing with the following quote: "If not you, then who? If not now, then when?"
Innovation. The summit brought together innovators from multiple sectors – prevention, recovery, recycling, upcycling, culinary, education and more. A clear and very positive theme resonating among the participants was that we have effective solutions on hand now to accelerate food waste reduction efforts; we need to focus on implementing them. As Jonathan Foley of the Project Drawdown team noted, food waste is here now, we have the technologies today, we just need to scale them. As we go forward, let's not only continue to message on food waste reduction, let's raise expectations of our organizations and vendor partners to demonstrate engagement in food waste reduction solutions.
Impact potential. As we say often at Leanpath, reducing food waste really matters. The food system accounts for about one-third of global greenhouse gasses, so food is climate. And when up to half of annual food production is lost or wasted, it's safe to say that food waste is climate, too. Food waste is the ultimate nexus issue, by reducing it we simultaneously drive improvement across multiple U.N Sustainable Development Goals (SDGs), reducing emissions, land use, water use, deforestation, biodiversity loss, and plastics while freeing resources to address hunger and poverty. That nexus aspect is an opportunity to be embraced, as noted by Foley, who stated that food waste reduction is the biggest lever that he knows of, beyond changing diets, to rein in climate change – and we could (and should) do both at the same time.
Urgency. The need for urgency on food waste reduction is clear, as evidenced by the climate crisis, escalating food insecurity, and the exposure of the fragility of our food system by the pandemic. Adding in the extreme rise in food prices in recent months, Richard Swannell of WRAP noted that food waste reduction is more salient now than it has been in the last 20 years. Yet while we are now well into the Decade of Action, we've lost precious time in the past two years, and we are behind on our 50 percent reduction goal. Referring to the related goal of limiting global warming to the 1.5℃ mark, celebrity chef Andrew Zimmern noted that every time he looks at his phone he realizes that we're closer to the critical 2030 date. That's the mindset we need to have in the food waste ecosystem to drive transformational action.
Overcoming limiting beliefs. Leanpath's CEO Andrew Shakman addressed change-limiting factors in a closing keynote. Reflecting on his 18 years of experience in food waste prevention, he questioned why advancing food waste reduction initiatives often seems so challenging despite myriad supportive global drivers, adding that the scale of the food waste reduction movement does not yet match the scale of the food waste problem despite clear triple-bottom-line gains.
Andrew posited that individuals bring limiting beliefs to their work on food waste either – consciously or unconsciously – by overemphasizing internal operational risks of today while underemphasizing the longer-term external risks embodied in the SDGs, especially climate change and food insecurity.
He reviewed observed behaviors in which chefs were unconsciously mitigating risks – such as fear of running out of food or concerns over food safety – by continually overproducing, over-merchandising, and ultimately wasting food in operations.
Andrew noted that in order to drive big change for food waste reduction, we must challenge ourselves to become intolerant of limiting beliefs across the food system. For example, knowing the many benefits of food waste reduction, business leaders should consider veering toward engagement at scale with speed rather than limiting scope and delaying impact in the quest for absolute certainty (i.e., zero risk).
Further, he called on food organizations to make food waste reduction an explicit part of both carbon reduction and food insecurity plans through targets and KPI's, while also encouraging them to report on progress in a transparent manner to force accountability for progress (versus the comfort in self-insured wiggle room). He also challenged NGOs and investors to consider how their risk management efforts might limit larger, faster impact.
In sum, Andrew noted that all of the summit participants were food waste changemakers, and he encouraged everyone to strive to overcome limiting beliefs in the quest to drive transformational – versus incremental – food waste reduction impact.
And while overcoming limiting beliefs might involve some discomfort, we should embrace that discomfort as a signal that we are on the right track, for as the ReFED banner notes, there is no time, and no food to waste.