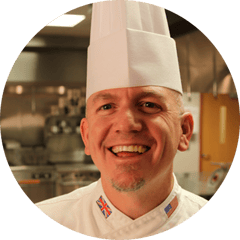 Leaving a career is never easy, and leaving one that you've been doing your entire life is outright scary. I've been a chef my whole life. Over 30 years of being in the heat of the battle—the chaos and beauty that is a working kitchen. The kitchen has always been my refuge, my happy place. I've been a dishwasher, line cook, student chef, Executive Chef, Culinary Dean, Regional Executive Chef, and National Culinary Director. My career has included extensive travel and stints in hotels, country clubs, B & I accounts, restaurants, and senior living kitchens. I've been through a lot, and I've seen a lot.
With all that I've seen and all that I've done in the past 30 years, a few key common threads emerge. First, chefs and cooks are some of the most genuine and hardworking people I've ever encountered. They are the salt of the earth. They live on the fringe of society and truly love what they do. Secondly, the kitchen is organized chaos. It doesn't matter if it's a hotel kitchen, a country club kitchen, or a mom and pop place in your neighborhood. They are all extremely fast-paced and require an artistic display of talent to manage this chaos. Lastly, I've noticed over the years that all kitchens waste food. Sometimes a lot of food. That aspect never really seemed to bother me when I was in my twenties. We didn't talk about food waste unless it affected our paychecks. You can't run a kitchen without some sort of food waste. Whether it be from prepping, overordering, mistakes from cooks, returns from customers, or a catering that was supposed to be for 500 and only 350 showed. There will be waste.
It wasn't until I went to work for a large corporate account that the sheer volume of food waste smacked me square in the face. I couldn't believe the hundreds of pounds of food that was just being thrown away each and every day. It was the norm. It fazed no one. And it sickened me. As a culinary professional and someone who was entrusted to care for the food that came into my kitchens, the waste drove a stake in my heart, and in my conscience. Perfectly good produce tossed into the compost bin, whole roasted cuts of beef, lamb, and pork, grilled chicken, grain salads, soups, stews, pastries, and pasta – all being thrown out. Why? Oh, there were a myriad of reasons given to me on why the food was being tossed, but not one of them sat well with me. To me, this level of waste was unethical, unprofessional, globally wrong, fiscally irresponsible, and utter nonsense. Something had to be done.
Shortly after I started with this corporate account, a mandate came down from headquarters that all kitchens had to start weighing and recording food waste. "Great!," I thought. "Someone else is seeing what I am seeing and someone in the company actually cares!" I was hopeful and optimistic that we would begin to get a handle on the food waste issue. Proper training sessions were set up for the Executive Chefs and their kitchen staffs that covered how to define waste, how to weigh and record the waste, and what to do with the waste after it was recorded. Immediately we began to collect data—not extensive or very useful data, but enough information that we could see, on paper, just how much waste there was. We tracked each day for months. We shared results, we talked about the food waste. We came up with solutions we thought would work.
I was getting good buy-in from chefs and kitchen crews as they began to see the results of our collective food waste reduction knowledge. Our modest results came from meeting weekly, discussing food waste, sharing best practices and collecting more data. Over the course of 5 months, we lowered our food waste in the cafes by 32 percent. But, there was still a lot of food going to waste, and it really bothered me that we couldn't do more. And soon after, what happened at a VIP catering event became a turning point for me and my culinary career.
We had a week-long catering event: 1,000 to 1,200 people each night for six nights straight. Massive displays of food, an extensive menu, raw bars, multiple hors d'oeuvre stations, dessert action stations—a logistical headache that ran on for a week. The second day of the event we had a snow storm that caused the event to be cancelled for that evening. It wasn't a big deal, since the food we prepped for that evening was not a loss and everything was still able to be utilized. But because the event got cancelled that night, the client added an additional day onto the event. The event was going along well each night, with a pretty accurate guest count resulting in little waste or leftovers. It wasn't until the last night, the night that got added on to the event, that it all went south. 1,200 to 1,500 people were supposed to attend. But when we opened the buffets, something seemed off immediately. There was hardly a face there. At the end of the evening, the count was 88 attendees. 88. We had prepped for 1,500 people. When the question went to client on what they wanted to do with all the prepped food, the response was, "just toss it, it's paid for." My jaw dropped.
That was the closing of those doors for me. I knew I had to do something—anything—to help this type of mindset. If it was mentoring or coaching chefs, training kitchen crews, giving knife skill demos, offer training sessions on waste, it didn't matter to me. I just couldn't go on being part of the problem. I needed to be part of the solution. Enter LeanPath.
I was sitting home one evening with my wife, voicing my frustrations with wasted food, and she decided to do a quick search on food waste careers. Up popped a posting for a Chef Coach/Trainer at LeanPath. She said, "come look at this," and the posting was for a position with my background, doing all the things I have been wanting to do! One exception: I wouldn't be a chef anymore. That needed to sit with me for a bit as I never had thought of myself as anything but a chef. It was gut check time. Did I really want to help chefs, or just affect the chefs I worked with every day? The answer was simple: I want to help everyone I can! I took a rather abrupt departure from my position and joined LeanPath. I now can help chefs, cooks, food service managers and anyone that will listen on becoming more aware of food waste and helping them find solutions for their own food waste issues. I love the kitchen, and I will always be connected to a kitchen in some way shape or form. These are exciting times.
---

Chef Robb White, CEC CCA AAC, joined the LeanPath team as a Chef Coach/Trainer in February 2017. In this role, he works with LeanPath clients across the globe to understand their food waste data and take action to dramatically improve kitchen efficiency and reduce waste. Chef Robb has over 30 years of industry experience as an educator, corporate chef, private chef and country club chef. He is an active member of the American Culinary Federation, and was inducted into the American Academy of Chefs in 2010.