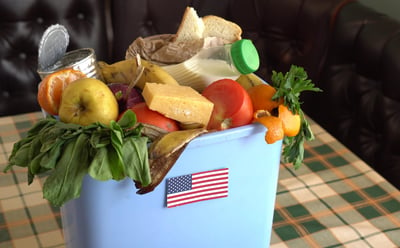 In the United States, 30 to 40 percent of all available food is wasted. Food is the nation's single largest type of waste. Three U.S. federal agencies have announced a coordinated strategy to address the crisis.
The Winning on Reducing Food Waste Federal Interagency Strategy lays out six priority areas to coordinate the efforts of the U.S. Department of Agriculture, the U.S. Environmental Protection Agency, and the U.S. Food and Drug Administration. Priority Area 3 focuses specifically on the need for food waste measurement as a means to identify missed opportunities around food waste prevention and to better understand progress on reduction.
"As the world's population continues to grow to nearly 10 billion people by 2050 and the food systems continue to evolve, now is the time for action to educate consumers and businesses alike on the need for food waste reduction," said U.S. Agriculture Secretary Sonny Perdue. "I look forward to what the future holds on this initiative and how we can work together to change the hearts and minds of Americans to reduce food waste."
Other priority areas include the following:
Improving interagency coordination
Increasing consumer education and outreach
Clarifying information related to food safety, food date labels and food donations
Collaborating with the private sector to reduce waste across the supply chain
Encouraging food waste reduction by federal agencies
The strategy development expands on other federal activity to reduce food waste, including development of the USDA/EPA U.S. Food Loss and Waste 2030 Champions, a group of businesses recognized for their public commitments to reduce food waste. The group includes Leanpath clients Aramark, Hilton and Sodexo.
For more breaking food waste news sign up for our weekly blog update emails at the top of this page and visit the In The News section of our website.