The World Food Summit, held at the Danish National Parliament, brought together experts from multiple sectors and disciplines for two days of discussions focused on the challenge of quickly transitioning to a more sustainable global food system. The need for urgent change to create a more sustainable food system is clear, and virtually all of the conference sessions effectively supported that theme. I was proud to represent Leanpath at the event.
In his opening remarks, Danish Minister Mogens Jensen set the tone for the event, pointing to the recent IPCC (Intergovernmental Panel on Climate Change) report on global warming and noting that the global food system accounts for up to one-third of global greenhouse gas emissions annually. Jensen also pointed to the Global Footprint Network's concept of Earth Overshoot - the date when humanity's annual demand for ecological resources and services exceeds the Earth's ability to regenerate them - noting that Earth Overshoot Day moved to its earliest date ever this year, July 29. Jensen reminded us that if we don't change our ways regarding production and consumption of food, the world will not achieve its climate goals. In short, he emphasized that we must change our ways to address the social and environmental challenges of feeding a growing population, and we must decrease the impact of the food production system on Earth as a critical path to achieving the Sustainable Development Goals.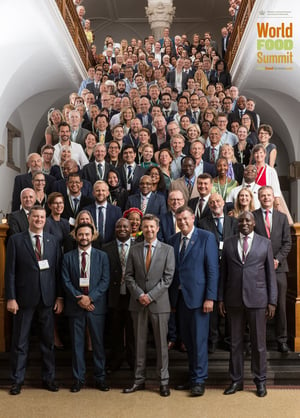 Additional speakers echoed this critical theme. Brent Loken, co-author of the EAT-Lancet report on healthy diets from sustainable food systems, noted that even when faced with compelling information it is difficult for stakeholders to change. He warned that "if we don't stop clearing land to produce food, (the) Paris (Agreement) is out the window." South African Minister of Rural Development Mcebisi Skwatska pointed out that the world currently wastes 1.3 billion tons of food annually – enough to feed three billion people – and that "a food system that wastes so much is unsustainable." He's right.
Manish Bapna, Managing Director at the World Resources Institute (WRI), referred to WRI's recent report, Creating a Sustainable Food Future and the need to close three critical gaps – the food gap, the land gap, and the GHG gap. In other words, we must produce more food with less land (and resources) while reducing greenhouse gas emissions. He spoke of the report's five main menu items, the first of which – reducing growth in demand for food and other agricultural products – is underpinned by the importance of substantially reducing food loss and waste. Later, he noted that a warming climate will result in decreases in agricultural yields, again stressing the importance of reducing food loss and waste.
In a side session, Marcus Gover of WRAP noted that "if we continue as we are, by 2050 putting food on the world's table could contribute 2°C to global warming." Deputy Minister Andrew Tuimur of Kenya pointed to the frequency of drought as a sign of the impact of climate change in his country, while Ertharin Cousin, former director of the United Nations World Food Programme, called for a sense of urgency in transitioning to a more sustainable food system.
Session after session reinforced food waste as a nexus issue in global sustainability, and paramount to achieving the Sustainable Development Goals. Supported by countless reports, research, and expert testimony, World Food Summit 2019 was a sobering reminder of the urgency with which we all need to tackle food loss and waste at scale, and a reassuring view into the powerful impact we can have when we unite across disciplines to prevent food waste.
To follow Leanpath coverage of global food system events like this sign up for our monthly newsletter.