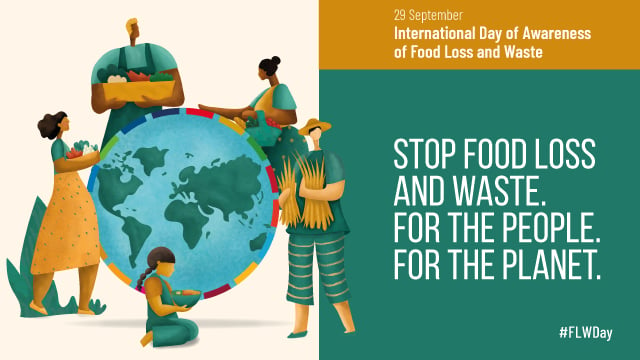 Today, September 29th, we celebrate the International Day of Awareness of Food Loss and Waste, an important day which was added to the UN calendar three years ago – and we were excited to join our colleagues at the Future Food Institute in bringing this to fruition.
Three years from its creation, the need to draw attention to the scale of the food waste challenge is more important than ever. A new report from the World Wildlife Fund, for example, notes that 40% of global food production is lost or wasted annually, with food waste alone accounting for 10% of the world's greenhouse gas emissions.
Thus, at a high level, with over 800 million hungry and myriad environmental externalities associated with food waste, responsible foodservice organizations already have strong incentive to focus on preventing the occurrence of food waste.
And at a core operating level, the cost and productivity savings from food waste prevention continue to grow more attractive in the wake of high inflation and supply chain disruptions. A recent report by Technomic states that food prices have increased by over 11% from last year, the highest rate of food inflation since 1979. Further, ongoing supply chain disruptions are hindering the ability of foodservice operations to reliably get the food they need – with the National Restaurant Association reporting late last year that 95% of operators had experienced delays or shortages of food and beverage items.
In addition, a growing body of research indicates that consumers are increasingly awakening to the importance of food waste reduction, and they are looking to do something about it.
A recent survey by Innova Market Insights, for example, revealed that consumers' top global concern was the health of the planet, and that food waste reduction was seen as the top action to be more environmentally responsible. Further, nearly half of consumers are cutting their food waste, while 63% indicate that a preference for eating at a restaurant that actively prevents or reduces food waste.
Consumers' rising interest in the environment is spurring the rapid growth of the market for upcycled food products – new value-added food items that are produced from surplus food. Numerous examples can be found at the Upcycled Food Association, which has recently created a certification for upcycled foods, indicating the maturing of the market. Innova notes that food product launches containing upcycled ingredients have seen very strong growth in recent years, and, significantly, that 62% of consumers are willing to pay more for food items that are linked to stopping waste – a clear expression of values.
In the UK, a survey of consumers regarding their food purchases by the Food Standards Agency revealed that nearly one third of respondents reported buying food with low environmental impact "always or most of the time." Notably, the top concern among the respondents (63%) was food waste.
Further, a recent report by CapGemini (Reflect. Rethink. Reconsider: Why Food Waste Is Everybody's Problem) indicates that 72% of consumers are now more aware of their food waste, compared to just 33% prior to the pandemic. In addition, 61% of consumers feel that brands should do more to reduce food waste. And, 58% of consumers will increase their spending with brands that are taking active steps to reduce food waste.
So the drivers for implementing a food waste prevention program are clear on multiple levels.
By implementing a measurement-focused prevention program, foodservice operators can reduce food costs (cutting purchases by as much as 2-8%), gain operating efficiencies and counter supply chain disruptions, contribute to critical social and environmental goals, and meet rising expectations of consumers regarding responsible use of food resources.
And going beyond addressing pre-consumer waste in the kitchen, operators can meet changing expectations by engaging and educating consumers directly on plate waste with Leanpath Spark.
There's never been a better time to focus on the highest impact action on food waste: prevention.
And the global focus on the International Day of Awareness of Food Loss and Waste provides one more strong incentive.
Sign up for our monthly newsletter for the latest in
food waste prevention initiatives, best practices, webinars and more.