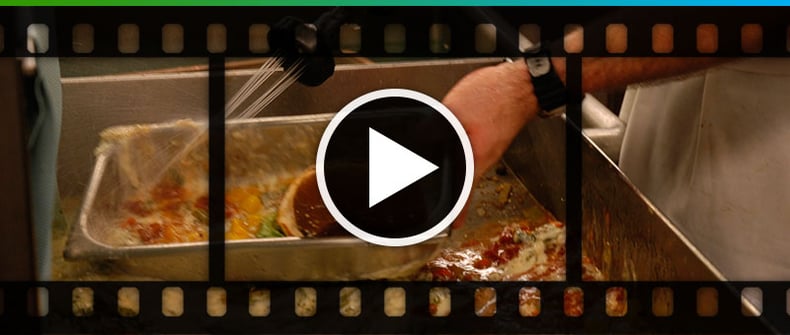 As the food waste movement continues to grow, more and more people around the world understand just how pressing the issue of wasted food is. From consumers, to foodservice managers, to chefs and beyond, everyone has a role to play in reducing food waste and loss along the supply chain.
For many who work every day to contribute to reducing food waste, whether in foodservice or at home, the facts and figures around the scope of the issue are well known. Still, sometimes a reminder of why we focus on this important work is helpful and inspiring, which is why we gathered some of our favorite food waste videos to share with your colleagues and friends. And although some of these videos are a few years old, the message they embody is more relevant than ever.
1. The Roadmap to Reduce U.S. Food Waste by 20%
Produced by ReFED and based on the groundbreaking report they released in 2016, this video takes a look at food waste in general and then presents viewers with an in-depth but easily understandable assessment of impactful ways we can go about reducing food waste across the United States.
2. Food Waste: A Story of Excess
Full of hard-hitting statistics, this short video provides a great overview of the scope of the food waste problem and opportunity. The clip takes into account the social, environmental, and financial impacts of food waste, putting the global food waste crisis into perspective.
3. Stop Food Waste
This one-minute long video from the European Commission uses a blend of dramatic cinematography and a whimsical soundtrack to present an impactful look at the huge quantities of food wasted in Europe. Although the video focuses on the EU, its message is relevant around the world.
4. Food Waste = Money Waste
If you've been searching for a quick and engaging way to illustrate the financial cost of wasted food in foodservice, look no further. This fast-paced video takes us from the kitchen to the front-of-house and back, creatively driving home the point that throwing food away is synonymous with throwing money away. If you're a visual learner, check out our blog post Visualizing Food Waste Prevention.
5. The Extraordinary Life and Times of Strawberry
Part of a national campaign to raise awareness about the food waste crisis in the United States, this clip from AdCouncil and the National Resources Defense Council presents the tale of a strawberry as it travels from farm, to grocery store, to home, to trash. Fantastic story-telling and a dose of humor make this video especially moving. To learn more about the Save the Food campaign, go to savethefood.com.
6. Food Wastage Footprint 2
Coming from the Food & Agriculture Organization of the United Nations, the second installment of the "Food Wastage Footprint" videos takes an in-depth look at many facets of food waste, investigating the full economic, social, and environmental costs of the issue. Here's the first Food Wastage Footprint video, in case you missed it.
7. WASTE
This video appears more like a documentary than a short clip, and the combination of impressive footage, information, and narration make this well worth a watch. A bonus is the video's availability in multiple languages.
8. Last Week Tonight with John Oliver: Food Waste
No list of food waste videos would be complete without the segment from HBO's John Oliver, in which he presents his hilarious take on a very serious problem. The longest video on the list, you'll need to set aside some time to watch the whole thing—however, you won't regret it. Fair warning: this clip is not without some coarse language and humor.
9. Food Waste
Full of poignant statistics and eye-opening reminders, Coat of Arms' "Food Waste" covers food waste in the United States, challenging viewers to meet the EPA and USDA's call to reduce food waste 50% by 2030.
---
Leanpath has been tackling the problem of food waste for over 15 years. Our mission is to make food waste measurement and prevention everyday practice in the world's kitchens. Serving over 2,500 kitchens in over 30 countries, our food waste tracking solution has prevented over 28 million pounds of food waste. To learn more about Leanpath and our approach to ending food waste, watch our product overview video.