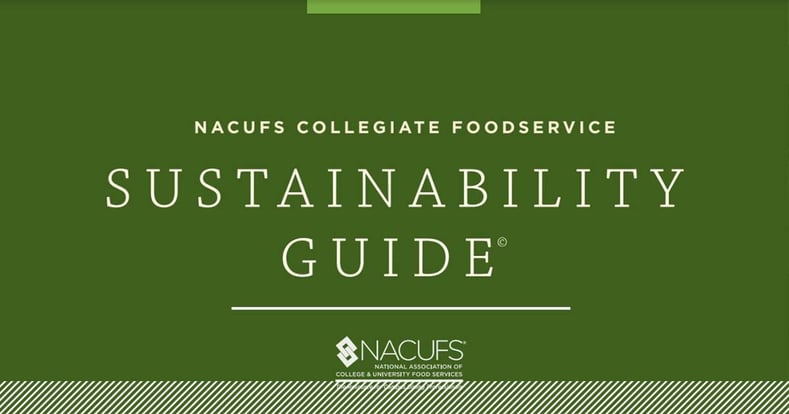 The U.S.-based National Association of College and University Food Service (NACUFS) put food waste as the top sustainability priority among a list of 10 pressing issues in their newly released Sustainability Guide. Recognizing the broad impact of addressing food waste, the guide states, "When the reduction of food waste occurs, climate change, water scarcity, and hunger are impacted, in addition to operational savings."
The 10 priorities in order are: food waste; carbon footprint; social equity; local, seasonal menus and purchasing strategy; waste reduction; animal welfare; biodiversity and habitat protection; sustainable seafood; sustainability collaboration; ingredient transparency.
Addressing food waste also addresses many of the guide's other 10 sustainability priorities, notably reducing a campus's carbon footprint, increasing social equity, and supporting biodiversity and habitat protection (and waste reduction, of course).
How food waste does this:
Reducing a campus's carbon footprint: If food waste were a country it would rank third in greenhouse gas emissions behind only China and the United States. The U.N. estimates 26 percent of the world's food waste comes from foodservice. When a kitchen prevents food waste--actually stops it from happening to begin with--it stops contributing to the emissions generated through the growing, transport, preparation and ultimate decomposition of that food that's waste. Food waste prevention is one of the most actionable tools campuses have to reduce their carbon footprint.
Increasing social equity: Some of the worst impacts from the world's food waste crisis impact vulnerable populations most. It is well established that the poor are bearing the brunt of the impacts of climate change. As the world wastes one-third of the food it produces, 270 million people face food shortages, up from 150 million before the pandemic. The issue of food insecurity on college campuses has come into sharper focus. By wasting less food, campuses leave valuable resources in the food system for those who need it.
Supporting biodiversity and habitat protection: Approximately 9.7 hectares of land are deforested every year to grow food. That trend cannot continue if we have any hope of combating climate change and maintaining biodiversity. It is estimated, however, that the world will need to feed an additional 2 billion people by 2050. Reducing food waste on campus is an actionable way to be part of fixing this broken food system, supporting biodiversity and protecting critical habitat.
To lean more about NACUFS' Sustainability Guide, click here.
To learn more about the broad financial, environmental and social benefits of food waste prevention, download our new e-book, Why Food Waste Prevention Should be Your Top Food Waste Initiative.
Sign up for our monthly newsletter in the footer below for the latest in
food waste prevention initiatives, best practices, webinars and more.