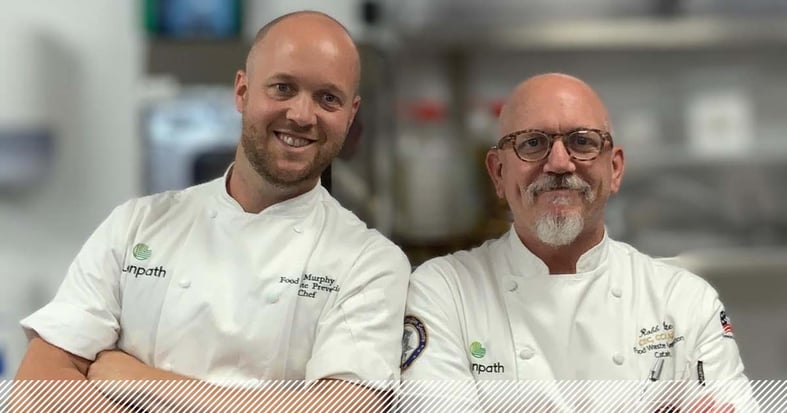 I'm Ben Murphy and I have recently joined Leanpath as a Customer Success manager and Food Waste Prevention Chef. (That's me on the left with Leanpath Executive Chef Robb White.) Having worked in various types of kitchens over a 14-year period, I have battled face on with the issue of food waste from weekend brunch to corporate catering to fine dining. I completed a Masters in Environmental Science with a focus on food sustainability in order to better understand the interconnected and multifaceted connection between mass food production and our environment.
I am delighted to have joined Leanpath in its mission to make food waste prevention everyday practice in the world's kitchens. I will be working closely with clients globally to help them take action against food waste by way of the data they are able to discover through tracking food waste with Leanpath.
I have been on the road for the last three weeks visiting client kitchens, engaging with chefs, managers and leadership on the challenges they face in curtailing food waste and seeing first hand the innovative and effective methods and best practices culinary teams have put in place to repurpose food that would have otherwise gone to waste. Some of the most impressive food waste repurposing actions I encountered were:
Sharing best practices and friendly competition
I visited a corporate client which had 12 staff cafe/restaurants within one of its HQ cities. Every two weeks the client held a Leanpath meeting where all 12 head chefs were brought together to discuss their Leanpath food waste data. They partook in some friendly competition by way of sharing how much food waste they had prevented but also shared their best specific practices within those two weeks by sharing photos and descriptions of innovative repurposing they had done within their establishments. This open sharing of culinary innovation helped motivate the teams and inspire each other to incorporate new repurposing techniques into their menus to avoid waste. Carrot Peel Dukkah and Orange Marmalade made from the juicing machine leftovers stood out as creative ways to add to salad toppings and breakfast counters, respectively.
Putting food waste front and center - celebrating innovation
Some of the client kitchens I visited made a concerted effort to showcase food waste prevention in their service areas by way of displays or even food waste themed menus. Chefs were making use of fruit and vegetable peelings to flavor water jugs, displaying pickles and ferments at the service counters and even putting on displays such as salad leaves and steamed and glazed wonky vegetables that were sat within edible soil made from leftover pumpernickel bread. The chefs explained that the diners left the cafe inspired about what can be done with food that might otherwise go to waste. This innovative salad bar was visually stunning and resonated with the conscience of the diner.
Repurpose Thursdays or Fridays
With many corporate catering establishments having to adapt to fluctuations in the return to work in the wake of the pandemic, chefs have had to take actions to avoid overproduction in light of uncertainties around forecasting and food production. A theme I noticed was the term 'Repurposing Thursday' or Friday being used whereby almost nothing was being completely prepared from scratch on the quieter end of the weekdays where the workforce now increasingly work from home. Instead, overproduced but uncooked ingredients were being accumulated over the week and being used to make up that day's lunch through smart and innovative cooking. Currys, ramen and laksa among other wet dishes were the most frequent clever creations that worked perfectly to combine overproduced protein, veg and starch whilst still providing nutrition and big flavors.
With a skill and passion for cooking good food, an awareness of the impact of food waste and an understanding and adaptation to the new trends emerging in the foodservice industry, chefs and cooks are the key to turning adversity into opportunity.
Yes chefs!