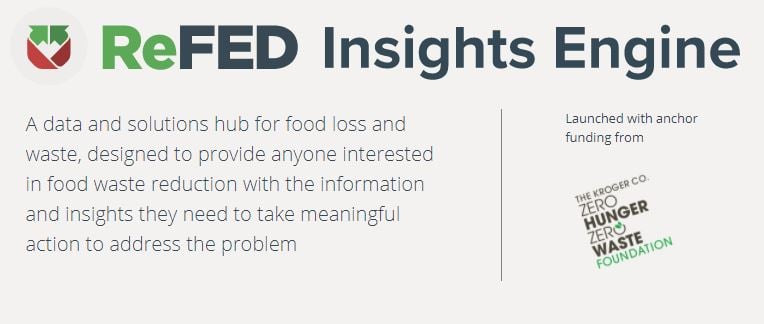 An ambitious new resource to help understand the problem of food waste in the United States ranked food waste tracking as the most financially impactful solution foodservice organizations can leverage.

Launched by the nonprofit ReFED, the new Insights Engine builds on the group's landmark 2016 study, A Roadmap to Reduce U.S. Food Waste by 20%. Like in that earlier report, preventing food waste (which food waste tracking enables) remains the focus of the Insights Engine.

"In our analysis, we prioritized preventing food waste as a solution," explained ReFED Executive Director Dana Gunders. "We found that preventing food from becoming surplus was 8 times better at avoiding greenhouse gases than composting food, not to mention it typically has better bang for the buck. By focusing five of our seven action areas on prevention strategies, we're hoping to make it less abstract. If people better understand the actions that lead to food waste being prevented, they're more likely to take them."

The 2016 report noted that the U.S. spends $218 billion annually processing food that is never eaten (equivalent to 1.3% of GDP). It also posited that an $18 billion investment in solving the food waste crisis would yield $100 billion in societal economic value over a decade. Prevention solutions, including waste tracking and analytics, ranked highly in terms of overall cost effectiveness.

Five years later – and, significantly, just nine years from when both the U.S. and global goals to cut food waste in half come due – ReFED has released this far-reaching update. The Insights Engine provides a new level of granular U.S. food waste data with the intent of helping food system stakeholders continue to move from awareness to "insight-driven action" on food waste reduction.

As a long-term partner with the ReFED team on many fronts, Leanpath applauds the release of the Insights Engine – the timing of which could not be better as we seek to regain momentum on the food waste reduction imperative in a pandemic-disrupted world – and we were very pleased to support the development of the platform through content ideation while also providing customized underlying food waste data for the modeling.

The new platform is organized around four key themes, allowing practitioners to Understand the Problem, Explore Solutions, Find Solutions Providers, and Calculate the Impact of food waste.

In the first section (the Food Waste Monitor), users can investigate the scope and scale of U.S. food waste from 2010 through 2019 in terms of overall food consumption, surplus food, and food donations. ReFED notes that the U.S. generated 80.6 million tons of surplus food in 2019, for example, equivalent to 35% of U.S. food production.

Armed with knowledge on how much – and where – U.S. food waste is occurring, users can then explore the Solutions Database, where ReFED shows the combined annual net financial benefit of over 70 food waste solutions. Users can then explore the impact of the various solutions (such as reduced portion sizes, consumer education campaigns, waste tracking, etc.) in terms of net financial benefit, diversion potential of food waste from landfill, emissions reduction, water savings, meals diverted from landfill, and potential job creation. .

Notably, this section shows the strength of food waste tracking as a food waste reduction solution. Food waste tracking is ranked as the sixth most impactful solution overall in terms of both net financial benefit and climate (emissions reduction), and fifth in terms of water savings. Drilling further into the foodservice sector, waste tracking is the top-ranked solution in terms of net financial benefit, and second in terms of climate impact.

"We're glad to see and support this important evolution of insight into U.S. food waste data by ReFED," says Leanpath CEO Andrew Shakman. "It will undoubtedly accelerate action steps by many food waste practitioners, and action is what we need to quickly bring about a sharp reduction of food waste in landfills and the associated environmental and social externalities. We're also pleased to see how waste tracking and measurement in the foodservice sector stands out as such an impactful solution – one which our team has dedicated seventeen years of effort to driving with the goal of making food waste prevention everyday practice in the world's kitchens."


Sign up for our monthly newsletter in the footer below for the latest in
food waste prevention initiatives, best practices, webinars and more.