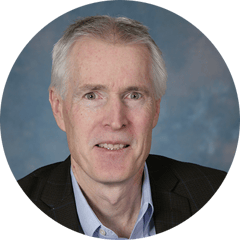 I come to LeanPath following a lengthy career in the supply chain sector in operations and finance roles, where I spent a considerable amount of time focused excessively on the financial bottom line and all of the associated operational drivers.
Well into that career, I began to feel that something was missing. While I enjoyed the challenges of a fast-paced, continuous improvement environment, the rapid rise of globalization had awakened me to the importance of having positive social and financial impact as well. In short, like many others, I was looking for greater meaning through work.
Unsure of where this journey was headed, I decided to return to school to engage in coursework and discussion with other mid-career executives. I enrolled in UPenn's Organizational Dynamics program, loading up on graduate courses in leadership, change management, globalization, and sustainability.
While in that program, I experienced a "light bulb" moment around the importance of the triple bottom line, and the potential for businesses to positively impact critical global problems like hunger and resource scarcity by embracing sustainability principles. At the same time, I was becoming increasingly aware of the challenges of the global food system – particularly the vast amounts of loss and waste – which was completely nonsensical when viewed in conjunction with the levels of hunger around the world. I became disturbed by that coexistence of waste and hunger (I felt downright guilty, really), and wondered if I could do something meaningful about it.
The recession of 2008 was the clincher. Suddenly, even the hidden hunger in affluent communities (including my own) was much more visible, if only we chose to look – which is what I resolved to do.
I began to notice retail store employees pulling food from shelves and tossing it into carts (undoubtedly to be discarded in the rear of the store). In some cases I asked if the food was being discarded, and whether donation was an option. Too often I heard that donation wasn't considered due to liability fears. I found trash containers full of pristine food items behind food stores, watched store employees robotically discard food once it hit a certain time marker, and saw the lack of high quality food (especially fresh fruits and vegetables) in food banks. At the same time, I continued to see extensive signs of hunger.
A trip to Europe and research on a public-private partnership led me to apply those learnings to the challenge of food recovery in my own community. That work led to field research and a volunteer project for a regional food bank, along with the creation of partnerships between local farmers and food recovery groups to capture and redirect hundreds of thousands of pounds of fresh produce for food insecure individuals.
With the success of those partnerships, I began to think more about the potential to scale up such programs as a way to address what I now believe is the most critical issue of our time – the challenge of feeding 9.6 billion people by 2050 in a sustainable manner. I delved further into the food system – including hunger and food security, water, energy, climate, environment, urbanization, equity, and obesity. The more I learned, the more I felt that this was a space in which I could have impact and find meaning.
In addition to forming a change management consultancy and advising food sector non-profits, I began speaking on the topic of food waste often, first locally, then nationally and globally. I also began writing on the topic of food waste and food security (including my blog, FoodForThoughtfulAction). Over the last eight years I've had the great fortune to work with many wonderful people in the food waste sector – all individuals who are committed to restoring a value-perspective toward food to optimize the way we utilize this critical resource. They are inspirational. I've also enjoyed participating in many impactful conferences on food waste, such as The Last Food Mile and Carrier's World Cold Chain Summit, and teaching a graduate class at UPenn that brings innovation, change, and sustainability themes together in addressing critical global challenges like the food system.
In many ways, joining LeanPath is a natural and perfect extension to my personal journey in the food waste space. For the last several years I have been working on many rewarding projects related to food recovery, all the while looking critically toward the entrenched problem of overproduction. Now, I can bring my food waste and culture change experience to the prevention side – the top rung of the EPA Food Recovery hierarchy – to not only help organizations achieve triple bottom line benefit, but to help drive broad and deep national change toward food waste prevention.