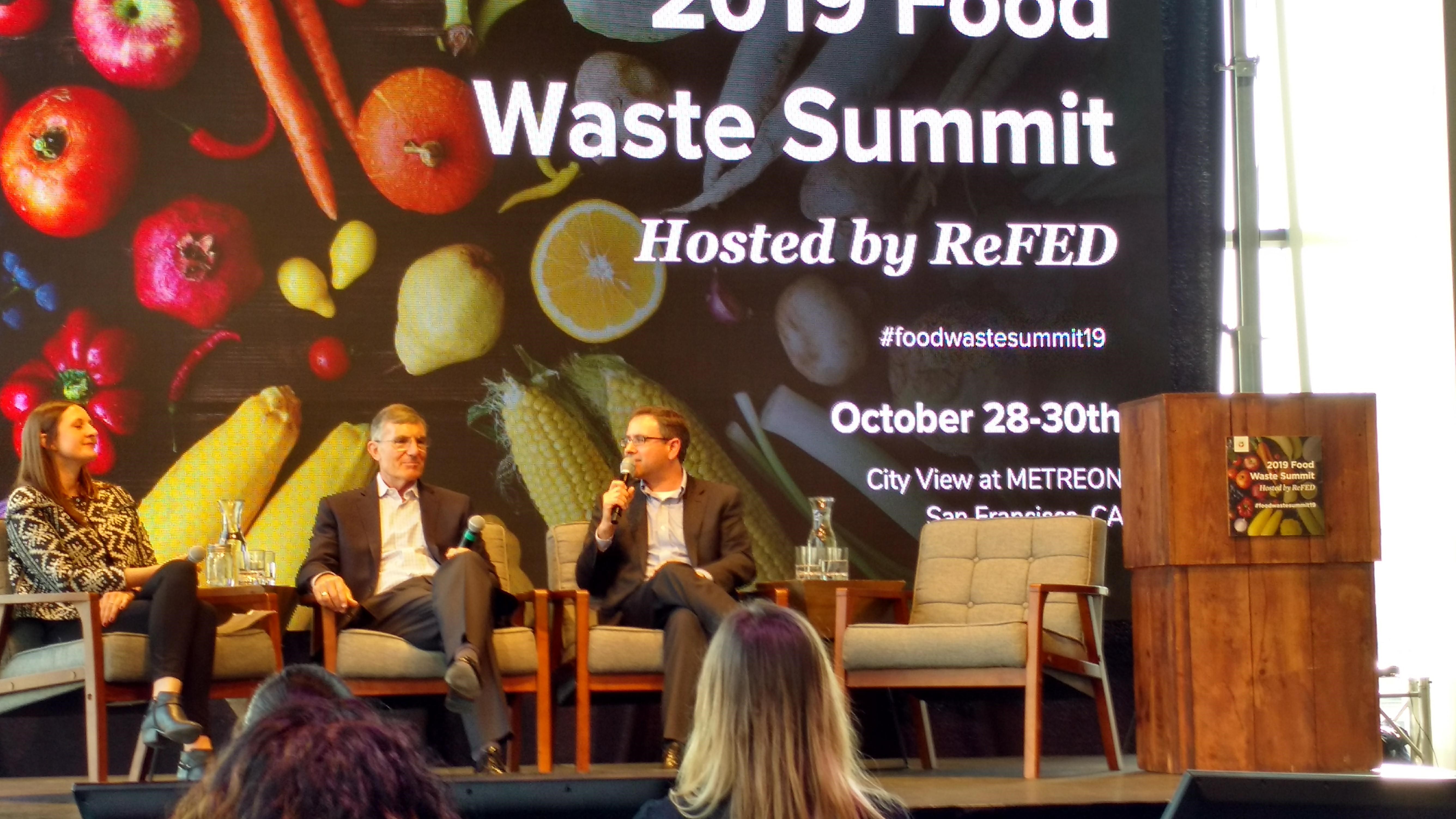 We've just returned from ReFED's 2019 Food Waste Summit in San Francisco, where we were excited to participate with many long-time partners and colleagues on the challenge of advancing food waste reduction at scale in accordance with Target 12.3 of the Sustainable Development Goals - which calls for cutting global food waste in half by 2030.
The timing of this year's summit was extremely compelling as 2020 is just two months away, and we are entering the "decade of action" for achieving the SDGs. Urgency is needed to scale solutions, particularly related to food waste, and an overriding theme of the summit concerned the importance of moving from awareness to action.
We were pleased to contribute to a session celebrating success stories with our global partner Sodexo, discussing the company's commitment to deploy Leanpath's food waste prevention technology in 3,000 sites within a year – a critical step toward Sodexo's goal of cutting its food waste in half by 2025.
Sodexo's VP of Sustainability and Corporate Responsibility, Ted Monk, and Leanpath CEO Andrew Shakman sat down in 'fireside chat' format to share key aspects of the WasteWatch powered by Leanpath program along with moderator Lauren Phipps of GreenBiz.
The importance of tracking and measuring food waste to drive meaningful change at multiple levels was immediately clear. Stressing the criticality of measurement, Monk noted that "measuring and managing food waste is one of the best ways we can manage our carbon footprint and financials."
Also discussed were potential missteps that organizations can make when addressing food waste. Shakman noted that leaders don't always follow the food waste hierarchy, focusing instead on recovery efforts and missing the great value in implementing a prevention program (which can simultaneously facilitate downstream recovery efforts). He pointed out that there is sometimes a misperception of the level of difficulty in implementing prevention, countering that with the right team and tools, implementation can be simple and scalable.
Shakman also emphasized that the commitment to prevention must be built into organizational culture, from the bottom of the organization up as well as from the top down. Monk added that getting food waste adopted at the highest levels of Sodexo involved showing how the issue aligns with overall company strategy. He also advised that one of the keys to achieving deployment at scale is to ensure that there are a sufficient number of advocates throughout the organization to deal with issues such as turnover.
On the subject of generating buy-in, Shakman noted that organizations can start by getting clear on how much food waste they actually have – which will likely surprise them. He stressed that many organizations lack systems to track and measure their food waste – and that some are using pen and paper methods which are inefficient and inaccurate. Noting that we are in a world of broad digital transformation, he pointed to the power in Leanpath's automated systems, commenting that "Leanpath is an ecosystem, collecting data and then extending that data" to the kitchen culture to drive behavior change and root cause analysis.
On the subject of behavior change, Monk noted that frontline foodservice workers "get" the importance of prevention and are most inspired by the societal benefits it drives. He also pointed to the value in "explaining the why" throughout the organization when rolling out a food waste prevention program.
Beyond the landmark nature of this agreement, Sodexo has gone further by building food waste reduction into everyone's performance management. In addition, the company recently announced that it has tied the cost of its financing to its success in achieving measured food loss and waste reduction across operations. Commenting on this level of transparency, Monk noted that, "We are bolting Leanpath into the process, and that's the way it has to be."
Sign up for our monthly newsletter to get updates about food waste prevention initiatives, whitepapers, webinars and more.