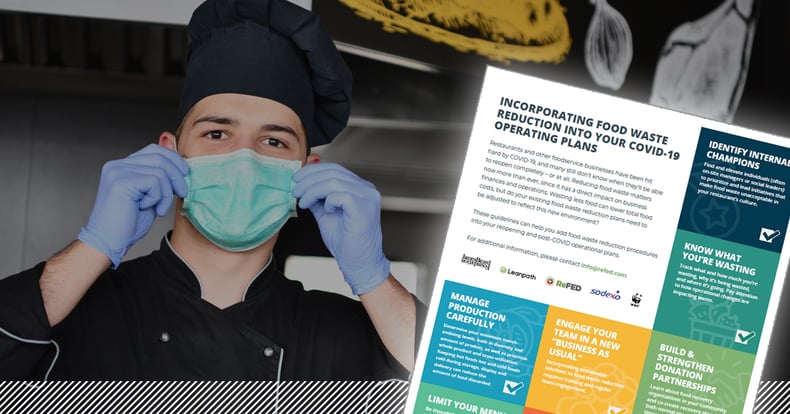 Food waste prevention matters now more than ever for foodservice bottom-lines. Lower traffic, unpredictable production levels, new service styles, all combine to put added pressure on already narrow margins–and increase the likelihood of food waste.
In a recent webinar convened by food waste non-profit ReFED, strategies were outlined for foodservice operations to reopen with food waste under control from the start. Panelists included Leanpath CEO Andrew Shakman, Sodexo's Senior Manager Sustainability Nell Fry and World Wildlife Fund Program Officer Samantha Kenny.
"It's really critical that people not lose sight of food waste during this time because it's tightly integrated into your ability to succeed," Shakman explained.
There are a lot of financial pressures on kitchens right now that are outside their control. If your foodservice facility is open, revenues are most likely down. With increased sanitation activities and staffed service in areas that may once have been self service, labor costs may be rising. At the same time many operations are finding they are spending more on packaging as they switch to more grab-and-go and takeout.
"The reality is food waste is one part of the financial equation that people can control," said Shakman. "We have the ability for [food waste] to not be part of the financial equation that hurts us, but actually one of the solutions that helps to offset some of those other areas that are causing a tremendous amount of pain."
Watch the full webinar, entitled Reemergence: Revitalizing Food Waste Reduction in Food Service Operations, to find out how automated food waste technology can help foodservice operations control waste from the start. And check out this one-page webinar companion piece outlining strategies.

For more resources on dealing with food waste during these challenging times, go to our dedicated COVID-19 resources page.
Sign up for our monthly newsletter for the latest in
food waste prevention initiatives, best practices, webinars and more.