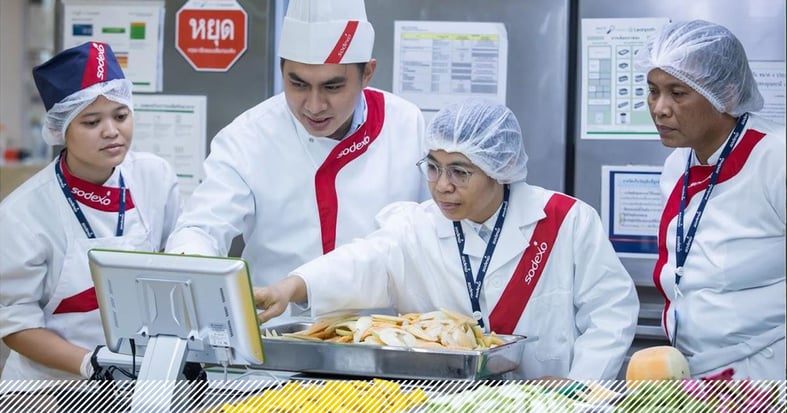 As part of its global rollout of food waste prevention technology, Sodexo has introduced Leanpath at seven locations in Thailand, including leading hospitals and international schools.
WasteWatch Powered by Leanpath, Sodexo's internal food waste prevention program that leverages Leanpath technology and support, has reduced waste at active sites by an average of 50 percent and has been rolled out at 1,200 sites globally. Sodexo's global goal is to reduce its cumulative food waste 50 percent by 2025.
Like the rest of the world, Thailand has a food waste problem. According to the federal Pollution Control Department, food waste makes up 64 percent of the country's garbage stream. This is not only a financial burden, but when that organic waste breaks down, it generates methane, one of the most harmful greenhouse gases. While all that food is wasted, 800 million people in the world go hungry.
"Today one-third of the food produced in the world has become food waste, and 8 percent of the greenhouse gas emissions are generated from daily food waste," explained Arnaud Bialecki, Country President of Sodexo Thailand. "As a leading food service provider, Sodexo has been aware of this global issue and is trying our best to fight against food waste while there are those who are suffering from hunger. We implemented the WasteWatch project as soon as we could for our customers all over the world."
The Sodexo Thailand sites are equipping their kitchens with Leanpath Scout, one of our newest food waste Trackers. Leanpath Scout is a small-footprint, food waste Tracker with a connected lightweight scale, perfect for lower-volume foodservice environments that still need the speed and ease of a fully integrated solution.
"The Sodexo team can collect data regarding daily food waste in each kitchen quickly and easily," said Bialecki. "This allows them to understand the situation and change their practices and behavior accordingly to achieve the goal of preventing avoidable food waste."
Announcing the global rollout plan for WasteWatch Powered by Leanpath in 2019, Sodexo CEO Denis Machuel called food waste "one of the biggest scandals of our lifetime." Food waste is "invisible," he explained, unless the food waste is tracked and understood. "Leanpath," he said, "will help us make food waste visible."
Sign up for our monthly newsletter in the footer below for the latest in
food waste prevention initiatives, best practices, webinars and more.