Leanpath CEO Andrew Shakman was honored Thursday night with the Special Achievement Award at the 2019 Waste2Zero gala in London.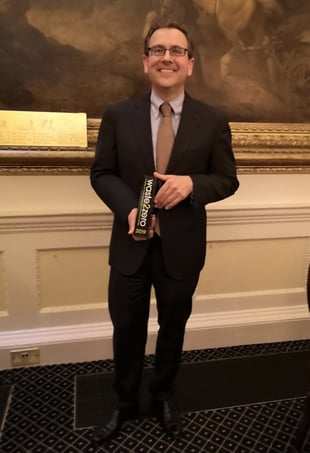 "I'm very honored and share this honor with my co-founders and full team," Andrew said from the stage. "Almost 16 years ago we founded Leanpath and began a journey to change the way people think about food. We're incredibly proud to have helped spark a change in kitchen culture. More importantly, we're grateful and humbled to have played a role in catalyzing this broader food waste movement of which so many here are centrally involved."
The Special Achievement Award, presented by Footprint, recognizes "an individual who has dedicated demonstrable and extraordinary effort to the advancement of the waste agenda in foodservice and the development of more sustainable waste solutions and/or business models."
"Waste remains endemic," the organizers explained, "and one of the biggest challenges to the foodservice and hospitality industry. Food waste, in particular, has emerged as one of the defining sustainability issues of our modern food system."
Andrew founded Leanpath in 2004, recognizing before most the environmental and financial toll food waste exacts on kitchens and the planet. With the simple but profound realization that the key to food waste prevention was measurement, he and the team built Leanpath into the global leader in automated food waste tracking and prevention. Today, working with thousands of kitchens in over 35 countries, Leanpath prevents food waste at a rate of 1 pound every 1.6 seconds.
Pictured: Andrew Shakman, Leanpath