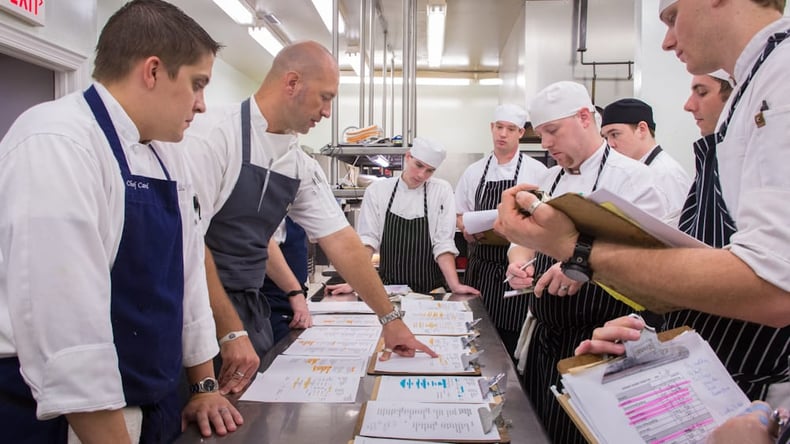 One of the best tools to prevent food waste is your menu, and deliberately integrating repurposing into the menu to ensure food is reutilized rather than wasted. In a webinar hosted by Leanpath Executive Chef Robb White, Sodexo chefs from the healthcare, corporate dining and universities segments shared their best practices in reducing food waste through inventory and menu management and staff engagement. Today, we'll review the discussion on menu planning.
Webinar panelist and West Coast Area Executive Chef Ken Krenzler led off the discussion with a saying he coined that captures the value of repurposing: "You don't make money off it until you sell it twice." The point being that low-margin items are a lot easier to turn a profit on when you repurpose any leftovers.
"We are always adjusting our grab-and-go programs to incorporate repurposing," he says. "We have leftover salmon, it makes a great salmon Caesar salad. Or we have stir-fry beef, as long as you follow proper storage and handling methods, we turn it from a hot to a cold dish for grab and go."
He pointed out that while it can be hard to make the margins work when you put proteins on the salad bar, if those are repurposed proteins, the margins become much easier to make work.
"Another thing is to leverage your chef's creativity," Krenzler explained. "If you have the production volume and space, show your talented chefs what's left over and ask them to make a chef's special out of it. It gets them excited, uses their talents, and cuts down on waste."
Executive Chef Brandon Williams, who works in Sodexo's universities segment, explained that his Leanpath data often shows vegetables as a top food waste item.
"So we are always looking for ways to cross utilize vegetables. One of the best things we've done, in one specific dining hall, we will do an Asian station popup, which is a fantastic way to repurpose. Maybe you have a simple stir fry with a vegetarian option, which will blow out whatever leftover vegetables you have in the house. You do a stir-fry lo mein and they're going to line up out the door."
Soups are an obvious option to make use of leftovers, but Williams cautions about just creating more waste. "You've got to be careful with soups," he says. "It's very easy to overproduce and just generate more waste. What I'll typically do to prevent that is to adjust the production level a little lower than what is called for, and then I'll keep a small soup kit off to the side in case we do have to make a little more to get through the end of the night."
Sodexo Executive Chef Laurance Morrison talked about how important it is to leverage seasonal menus to prevent food waste. "Foods in season come to the kitchen with usually a higher quality than if they are out of season. Because of this, the food tends to last longer and you get a longer shelf life out of them, cutting back on waste."
Download these guides and get started
on your food waste prevention journey today!