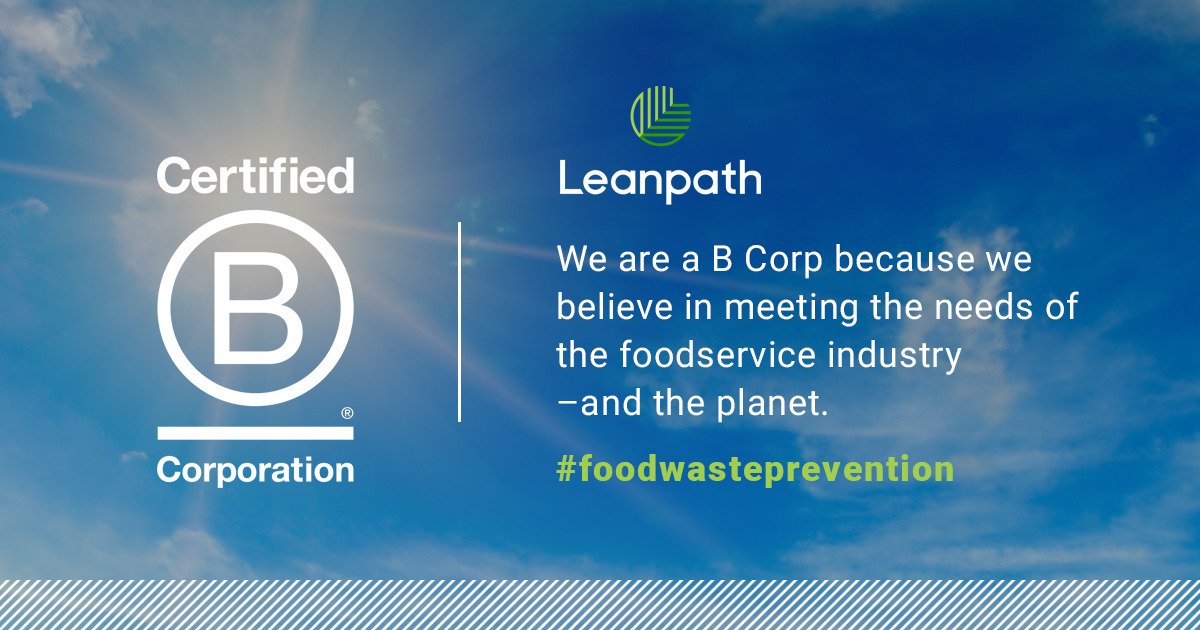 We're proud to announce that Leanpath is now a Certified B Corporation® - joining only 3,400 other companies around the globe that are committed to balancing purpose and profit.
We're also proud to announce that this certification means no change in how we do business: From our start in 2004, Leanpath has been mission-driven with a focus far beyond simply generating profit. We strive to make food waste prevention everyday practice in the world's kitchens as part of our vision of ensuring a sustainable future by eliminating global food waste.
We've worked diligently to educate organizations in multiple sectors of the food system on the environmental and social benefits of preventing food waste–thereby avoiding all of the environmental problems and resource consumption associated with the production, distribution, and downstream waste of food.
In addition, we've worked to change the discourse on food waste, shifting emphasis up the food recovery hierarchy to prevention (aka source reduction) in conjunction with a focus on responsible production versus overproduction. And we've emphasized the social benefits of prevention, including the freeing of multiple resources to address root cause issues of hunger and multiple other Sustainable Development Goal challenges.
And we've long donated our expertise, technology, and data to mission-aligned, resource-constrained non-profits, NGOs, and educational institutions to accelerate global progress on food waste prevention and Target 12.3 of the SDGs, as encapsulated in our Leanpath 12.3 Initiative.
"At Leanpath we know that, if you're totally focused on driving meaningful and positive change, good business will follow," states Leanpath co-founder and CEO Andrew Shakman. "It was that core belief that enabled us to build Leanpath into a global organization fighting food waste in over 40 countries. We've long known this was a triple-bottom-line pursuit, with responsibility to stakeholders well beyond our shareholders. For this reason, becoming a B Corp represents a natural progression as it formalizes our core beliefs and commitments in an enduring structure." Leanpath is responding to the needs of a changing industry, because the importance of controlling food waste hasn't changed. We are making this announcement at a time when the pandemic has pushed the public to ask more of the private sector, especially food and beverage companies.
According to the 2020 Global Food Trends Report conducted by communications firm Edelman, "Doing good for society is becoming an expectation for [food and beverage] companies." Food waste ranked as the most pressing issue of concern for food and beverage companies among consumers in the survey.
Our status as a B Corp acts as shorthand to let foodservice organizations and their clients know working with Leanpath is a way to further their sustainability and societal goals with a trusted partner.
"Two key B Corp tenets are that 'we must be the change we seek in the world' and that 'all business ought to be conducted as if people and place mattered,'" says Leanpath's Steven Finn, Vice President of Food Waste Prevention. "Every Leanpath employee is in sync with these themes. We all recognize the immense positive societal change that can be achieved through food waste prevention at scale, and we are all energized to drive that change. Being a Certified B Corporation is a further point of inspiration for the entire Leanpath team."
Christy Cook, Leanpath's Vice President of Customer Success, adds, "I was actually a Leanpath client before joining the company three years ago. I knew that Leanpath practiced values of operating sustainably through positive impacts for our employees, communities, and environment but becoming a B Corp verifies the ethical operating standards that are a part of the Leanpath fabric and culture. I have a great sense of pride to work for an organization that embodies responsible and ethical practices positively impacting generations to come."
We thank the B Lab team for their guidance throughout the certification process, and we are looking forward to actively participating in the B Corp community ahead, working with like-minded companies to harness the potential of business to be a force for global good.
Sign up for our monthly newsletter for the latest in
food waste prevention initiatives, best practices, webinars and more.