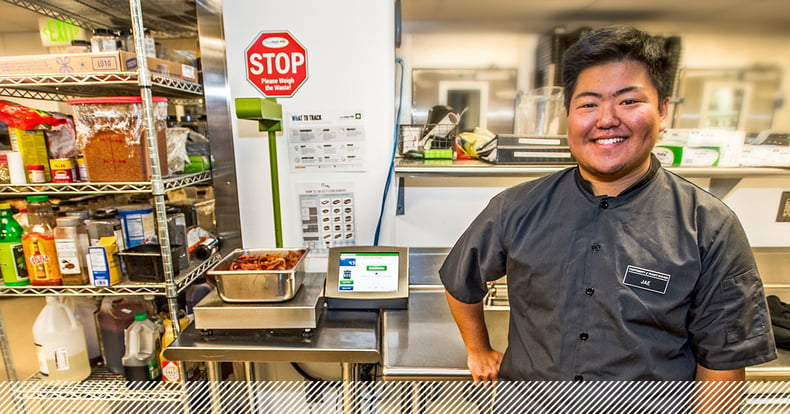 UK-based WRAP, the Waste Resources Action Programme, recently announced a food waste reduction campaign entitled "Wasting food: it's out of date." This is a highly visual effort to convey the scale of the food waste challenge through eye-opening facts (ex. the UK discards 20 million slices of bread daily) and the associated deep environmental, social, and financial impacts (ex. over 500,000 acres of land are unnecessarily used to produce the inputs for that wasted bread).
Building on WRAP's Love Food, Hate Waste work, the idea is to further educate UK citizens on the severity of the food waste challenge and catalyze change at the consumer level, where 70% of the UK's food waste occurs.
At Leanpath, we have long recognized the importance of behavior change in the battle to reduce global food waste. Our technology solutions are geared toward creating the data and insightful analytics that enable foodservice teams to make the immediate operational changes to reduce waste, while also changing employee behavior and mindsets to prevent the recurrence of food waste over the long term.
Our process always begins with tracking and measurement, but the power of our technology-based measurement tools is magnified by the human element – the mindset change that accompanies the tools and process. We put frontline foodservice workers first by connecting them to the food waste challenge and their powerful role in addressing it, knowing that inspired employees will generate strong results and that successful prevention efforts require that all team members repeat the correct behaviors at scale.
By making food waste visible and showing the many benefits of reducing it, we enable the creation of a culture of food waste prevention, where a prevention focus becomes part of the foodservice team's DNA.
And through that process, great stories emerge. For example, one manager in the College and University sector shared a story indicating the high engagement level of foodservice team members. He noted the challenges that each new school year brings when student workers join the kitchen staff on a part-time basis. He described how in their initial shifts, when some of these students are engaged in clean-up and carrying trays of excess food, experienced team members jump in to ensure that the food in question has been tracked and measured to ensure data capture.
Our team of coaches, with deep culinary experience, helps chefs turn data into action by implementing various practices to ensure full utilization while making changes to reduce overproduction and other forms of waste.
As Tom Mansel, Leanpath's UK-based Business Development Director, notes: "Given the pressured nature of foodservice, Leanpath is often tasked with shifting well-established kitchen behaviours that 'work' in that they get great food onto the customer's plate in a predictable fashion, but tend to generate waste in the process.
"One kitchen in Scotland utilized overproduction data generated by their Leanpath Tracker to reduce pot sizes for a soup that had long been produced in a certain quantity simply because it was an established production sheet standard. Shining a bright light on the resulting waste allowed a simple change in the prep routine that cut their waste by 70% over 5 weeks, and because the soup used expensive proteins they achieved considerable financial savings as well. The chef then worked with his Leanpath Coach to share this approach with a colleague in Poland; the soup was different but the waste reduction result was the same.
"So the simple but powerful idea of changing one behaviour in many kitchens can help build an exponential efficiency curve which kitchen and purchasing teams need today more than ever."
Katherine Dolan, Leanpath's Global Account Director, adds: "The behavior change aspect is very powerful. It's very inspiring when sites tell me that the Leanpath program has helped them to make a number of changes that cut food waste in their kitchens. Even small changes will make a big impact if they start happening at every kitchen around the world.
"I love hearing from Chefs who have really committed to measuring their food waste in an effort to truly reduce it. Chefs and front-line staff members can be extremely creative with how they make changes once they really understand what is going on in their kitchen. And the changes can be delicious, such as pickling and dehydrating food items, or creating menu items and soup recipes. Working on reducing food waste can really be fun, increasing engagement among team members."
At Leanpath we are committed to making food waste prevention everyday practice in the world's kitchens. That commitment involves continuously improving the tracking and measurement process to capture critical food waste data, all geared toward enabling foodservice teams to change behavior to achieve long term food waste reduction.
Sign up for our monthly newsletter in the footer below for the latest in
food waste prevention initiatives, best practices, webinars and more.