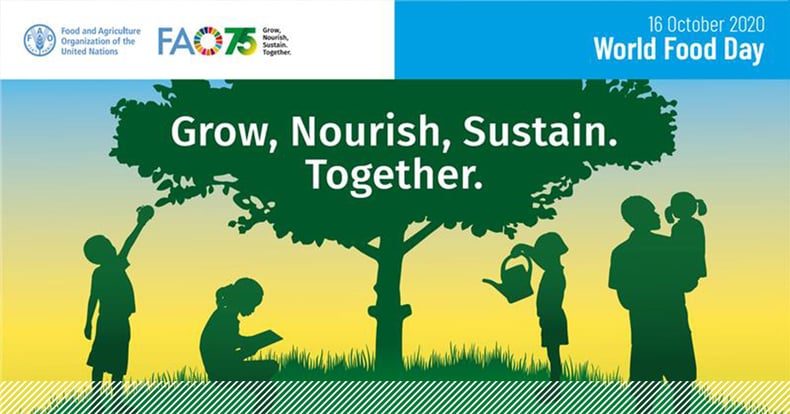 It is an exciting and eventful time in the food space. In September, we celebrated the first International Day of Awareness of Food Loss and Waste, which brings further awareness to the scale of the global food waste challenge and urges individuals to take action to stop food waste "for the people, for the planet."
And on 16 October, we celebrate another very special day on the calendar – World Food Day.
World Food Day was created to help celebrate the founding of the Food and Agriculture Organization of the United Nations in 1945. So this year is extra-special, not only because it marks the 75th anniversary of FAO's efforts to improve global food security, but also because of the many disruptions to the global food system (and the global economic system) brought on by Covid-19 that remain with us – disruptions that are intensifying the very issues of hunger and malnutrition that FAO works to address.
The pandemic has exposed the fragility of our food system. Yet it has also reconnected us to the value of our food and heightened our appreciation of the frontline workers throughout the entire food supply chain who work tirelessly to bring our food to us, while spurring conversation to build a better food system. All of these are positive points to leverage going forward.
Each year, World Food Day carries a specific theme for special emphasis, and recent years have included an action focus in keeping with the Decade of Action – the current 10-year window that humanity has to achieve the Sustainable Development Goals.
Last year's theme was "Our Actions are our Future: Healthy Diets for a #ZeroHunger World," while the theme for 2018 was "Our Actions are our Future: Ending World Hunger by 2030 is Possible."
This year's theme is "Grow, Nourish, Sustain. Together. Our Actions are our Future."
It's a short sentence, but a powerful call to action to work together to create a more sustainable food system.
FAO's supporting materials for World Food Day 2020, including short videos here and here, salute the food heroes who have shepherded us through the pandemic to date, and they note that we can all be food heroes by respecting food and the environment by wasting less.
World Food Day is always a special day for our entire team at Leanpath as Its purpose is so well-aligned with our vision of ensuring a sustainable future for all by eliminating global food waste.
And this year's salute to frontline foodservice workers aligns with our daily action focus of enabling #foodservicesuperheroes to lead operational and behavior change to reduce waste, while making food waste prevention everyday practice in the world's kitchens.
We have all been touched deeply by some aspect of Covid-19's impact on the food system, either financially, environmentally, or socially. Echoing FAO's desire to address persistent inequalities and inequities in our food system that have been exacerbated by Covid-19, Leanpath's Global Account Director Rita Alison notes: "World Food Day is an opportunity for reflection and action, especially this year. I have found that the past several months have shown further inequities in our food system. Food and all of the resources needed to grow and produce it are precious. We all play a role in creating a sustainable food system. Something everyone can do is not waste food!"
Leanpath's CEO Andrew Shakman concurs: "World Food Day is a moment to reflect on the dual challenges of climate change and food insecurity. It's an opportunity to remind ourselves that food waste prevention offers a uniquely powerful opportunity to fight both of these problems. By preventing wasted food, the world can direct its existing food supply to those in need while, at the same time, controlling the rate of growth of our agricultural footprint as we seek to feed a growing population, thereby limiting our environmental and climate impacts."
Andrew continues, "At Leanpath we're committed to helping the world win the fight against food waste. That's why we've been leading the charge on food waste prevention in foodservice and hospitality since 2004. As we celebrate World Food Day 2020, 16 years into our journey, we're disappointed that food insecurity and climate change remain massive problems. But we're encouraged by the progress that has been made to-date and the power of the coalition which has formed to fight waste Now it's time to redouble our efforts and use the next ten years well so we meet SDG 12.3, reducing food waste by 50% per capita globally."
World Food Day reminds us that we all have a role to play in creating a more sustainable food system.
We can all be #foodheroes. And we can all help to build back better.
A focus on food waste prevention is a great place to start for lasting impact.
Sign up for our monthly newsletter in the footer below for the latest in
food waste prevention initiatives, best practices, webinars and more.