At a Royal Society gala in London January 30, Leanpath received the 12th annual Rushlight Environmental Management Award, one of the evening's overall prizes for the most significant innovation in sustainable technology among 28 category winners. Leanpath also won in the category of Sustainability Initiative for work in expanding food waste prevention globally.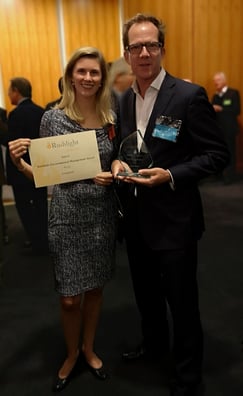 Award categories ranged from clean energy to resource innovation. Awards are given in each category, and one of the category winners is chosen most innovative and awarded the Rushlight Environmental Management Award.
"We are thrilled to receive these two prestigious awards," said Leanpath VP of Food Waste Prevention Steven Finn. "They are a testament to the hard work of all members of our global team who are laser-focused on implementing innovative solutions that address the most important aspect of the food waste challenge: prevention."
The Rushlight Awards are "designed to celebrate and publicise the significant achievements of innovators who have advanced the adoption of sustainable solutions."
Celebrating its 15th year preventing global food waste, Leanpath, and the thousands of kitchens it works with, currently prevents 1 pound of food waste every 3 seconds, 1 kilo every 7 seconds.
The Rushlight Awards cap off 12 months of recognition for Leanpath's achievements in food waste prevention. Recent awards include:
Pictured: Helene Wennerström and Tom Mansel, Leanpath UK